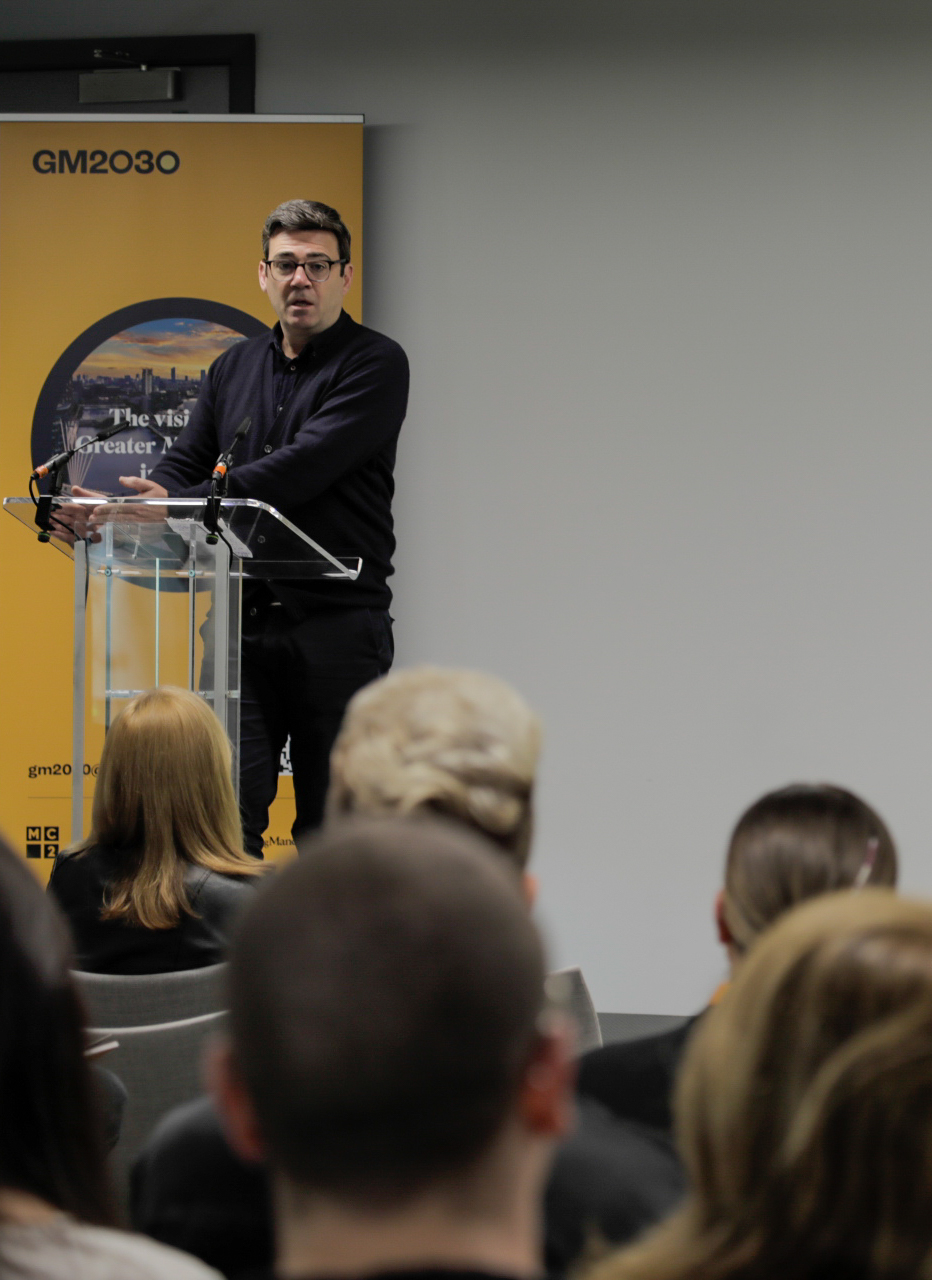 News / 14.06.2022
Tech, transport and northern soul: Greater Manchester's vision for 2030 and beyond.
Consensus is in short supply in UK politics, but most politicians and the public can agree on one thing: large regional disparities in wealth and opportunity are bad for everyone.
Greater Manchester has been at the forefront of devolution, urban planning and urban regeneration. Last week, we organised an event to discuss the launch of our GM2030 report. 
The report, which includes contributions from business, political and social enterprise leaders, outlines a vision for where the city region could be by 2030. It focuses on five key metrics for a thriving city region: infrastructure, including transport, business, talent, sustainability and culture.
"We are here today to try to put together a vision collectively," said MC2 chair Mike Perls MBE in the event's opening address. "The relationships and the conversations that start today will have huge benefits."
At the event at Circle Square − a new neighbourhood in Manchester near Oxford Road rail station and Manchester Metropolitan University – leaders in politics, business and academia discussed where Greater Manchester is making progress and challenges it must overcome to achieve its vision of becoming a more prosperous, fairer and greener region by 2030.
Andy Burnham, mayor of Greater Manchester, said that the city region is the most forward thinking and fastest growing city in UK, and the fastest growing tech hub in Europe. "We have a really exciting decade ahead," he said.
Better transport connections in Greater Manchester and the North West will be critical to helping the region continue to grow. Burnham said that by 2030 the city region will have the easiest to use, most integrated, most affordable transport system in the UK.
More could be achieved if the UK government invests more in northern rail and other transport, experts say.
The UK government's integrated rail plan, published last year, axed the north-eastern leg of HS2 and angered leaders in the region by failing to include a new promised high-speed line linking cities across the North of England.
Greater Manchester and the North as a whole needs more investment in its transport, Burnham said, adding that "no expense has been spared" for rail transport in London and South East. "If you're not going to invest in these rail stations, devolve them to us."
In a panel discussion at our event, leaders from business, politics and the social entrepreneurial sector discussed the future of "levelling up" for Manchester and the North, skills and training, and the city region's vision for economic and cultural growth and regeneration.
Dr Marilyn Comrie OBE is director of business development at The Blair Project, a Manchester-based social enterprise, and board member of the Greater Manchester Local Enterprise Partnership.
The Blair Project has created the "Manchester Innovation Activities Hub" to reskill and retrain thousands of local young people in low carbon, advanced manufacturing, tech and health innovation sectors. Comrie told our event that it wanted to provide the "wrap around support" to grow local tech unicorns. "We want to become the Silicon Valley of low carbon innovation and engineering," she said.
Any successful "levelling up" between regions should include better connections between towns and cities and include political backing from central government, said Chris Oglesby, CEO of Bruntwood, a commercial property company based in Manchester.
"Stop talking about levelling up and get back to a positive agenda," he said. "We need senior ministerial buy in to this and it doesn't seem like we have this at the moment."
And don't forget to enjoy yourselves. Panellists agreed that Manchester's music gigs and numerous other cultural facilities and events were helping to attract a new generation of talent for the region.
More than 100,000 students are enrolled at five universities in Greater Manchester − the largest density of students in Europe, said Professor Stephen Decent, deputy vice chancellor at Manchester Metropolitan University.
Persuading a large proportion of these students to stay in Manchester will help the region attain its environmental, economic and cultural goals for 2030 and beyond. Although speakers at our event stressed that the region still had a lot of challenges to overcome, all were confident that it is on the right track and has a bright future.