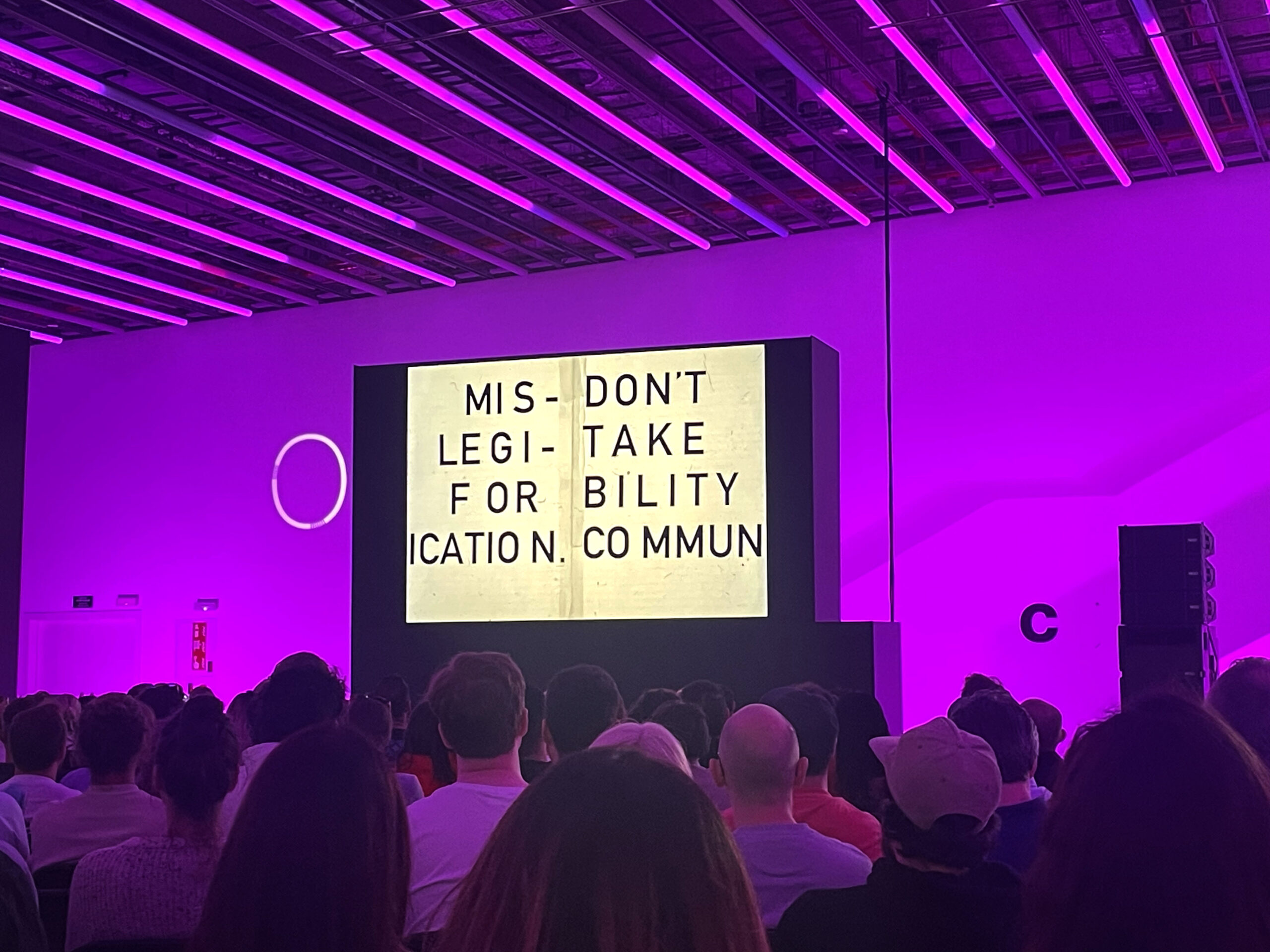 News / 18.04.2023
Lessons from…OFFF Barcelona
OFFF Barcelona is the largest showcase and window of contemporary visual creativity and design.
For three days at the end of March we took ourselves to the sunny shores of Barcelona for OFFF Festival to immerse ourselves in the latest design, art and cultural trends from across the globe. Apart from forgetting what seemed to be the obligatory dress code of black attire, we settled in to bring as much inspiration as possible back to rainy Manchester.
Over the course of three days, we heard thought provoking talks and workshops from writer Dylan Parry, typographer, designer and poet Timothy Goodman, international ad agency Kessels Kramer, creative studio Bienal Mexico, multimedia artist – Josue Ibañez, design royalty – David Carson, plus many many more.
Here are some common themes that we brought back home with us:
Honesty is the best policy
This came out as a response to the ubiquitousness of advertising, people are becoming more savvy to it, so honesty is the best approach 99.9% of the time.
Kessels Kramer Amsterdam showed us how even the most difficult briefs can be solved with a liberal splashing of the truth, with campaigns for "The world's worst hostel". Creating campaigns that highlighted its lack of, well, pretty much every amenity possible, meant it became a challenge to complete for the most hardy of travellers.
The power of AI
Advances in AI were unsurprisingly top of mind for most creatives trying to imagine the future of their work. Found studio suggested that discovering the nuance of AI-creative partnership will be a major theme in the working lives' of artists and designers in the coming years with automation, AI assistance, and tools that cut corners and will make us more efficient on a day-to-day basis. Dylan Parry noted that AI can emulate good writing, good image making, good ideas, but it can't emulate craft and human emotion (yet). The question leftover was, can knowledge and training ever really understand the human mind? 
I personally feel that to set us apart, we need to rely on our "humanness". Our humanity is our uniqueness, we need to rely on that even more than ever before and keep the robots on the sidelines making us more efficient.
"Creation isn't the same as creativity.
An AI system can't be creative"
Matt Alagiah, It's Nice That
Originality 
A key takeaway from the agency Bienal Mexico – "If you forget your origins, you can't be original", your roots are your superpower. It was great to hear this from an agency on the other side of the world, reinforcing what we already know here in Manchester – the importance of brand strategy, built around the roots of a business. Growing a brand personality and purpose from its roots will make sure every piece of communication is cohesive, authentic and demonstrates your true worth.
And to round up the three days, our final (and favourite) takeaway from the festival, was this:
Less meetings, less time wasted in meetings, sit on uncomfortable chairs if you need to. Spend your time creating, it's what we do best.