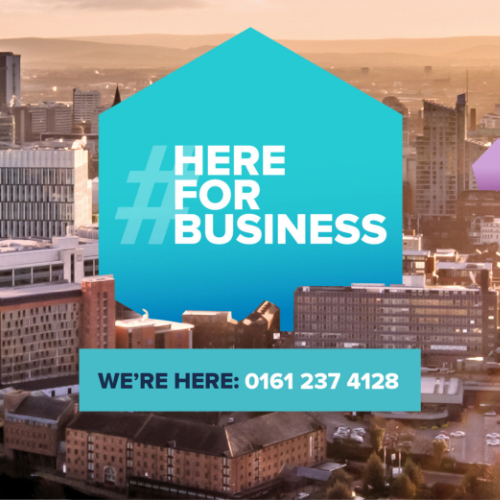 News / 25.07.2020
#HereForBusiness with GC Business Growth Hub
The support GC Business Growth Hub provides to Greater Manchester businesses is important during the good times, but during this pandemic it's been nothing short of vital. Without their clear guidance and advice the impact of COVID-19 on the region's economy would have been even more significant.
We were tasked with creating a campaign that allowed them to cut-through the noise and get these critical messages out to market. The measure of success was clear – an increased number of inbound calls.
In just 48 hours, we delivered #HereForBusiness, an integrated campaign that utilised the full marketing mix, from email marketing, PR, paid social, online advertising and more. To communicate the breadth of support offered by the Hub as clearly as possible, campaign activity was divided into distinct themes. These were important focus areas such as finance and cashflow, supply chain challenges and employee support, which resonated with a broad audience.
This campaign was a real team effort, working alongside the Hub's internal teams and multiple partner agencies. As a result, #HereForBusiness was a success across all channels. In its first month alone, the campaign delivered:
944 inbound calls
446 direct email conversations
74 chat conversations
23,824 website page views
To build on this success and continue to support Greater Manchester businesses, we're now working with GC Business Growth Hub to roll out the second phase of the #HereForBusiness campaign.